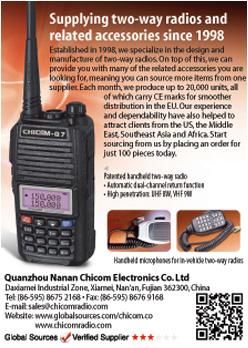 Novel interphone, " a hundred responses to a hundreds "

Views:2116 Add Time:2012/12/13 17:11:24 From:
Report from our correspondent yesterday, Hangzhou city government network digital trunked radio officially opened. This is the first domestic independent intellectual property rights in the digital trunking wireless government affairs network.
Digital trunking radio government network, the name sounds very professional, but its function with very familiar with a device related: walkie-talkie. In order to facilitate command, including public security, urban management and other departments for law enforcement personnel, equipped with a radio or a voice intercom system, through the walkie-talkie, the relevant responsible person can be the first time the instructions conveyed to the line, also can understand a situation.
The opening of the Hangzhou digital trunking wireless government network, compared with the previous system of more advanced, more advanced, the use of range is no longer limited in various departments, but covers the various departments, as well as in the line of law enforcement officers.
Relevant responsible person said, the experience of large emergencies or in large public gathering, the traditional signal will meet the network traffic, such as the Hangzhou some time ago, a fireworks display, in many regions of the network is not very smooth, short message is not sent, even phones, this time, we rely on the intercom system. But for so many years down, the original intercom system technology is relatively backward, mostly analog trunking communication, the call quality is not high, confidentiality is not strong, relevant departments in law enforcement, and even some people can tune into the intercom system with law enforcement officers like frequency, tapping the speech content. Moreover, the old system has a biggest drawback: small, medicinal powder, random. Many departments have their own network and intercom system, but the system is unable to communicate with other departments, have large abrupt events, urban public security intercom walkie-talkie never compete with each other, is not mutual exchange of needed products.

Related Information